Saverio Doria
- 46 Kg
in 8 months *
Being skinny is a whole different life, I feel younger
My name is Saverio Doria, and my nickname was Fat Belly...given the size of it! My nephew always joked around asking when was I due. One day, Lorenzo, who people used to call X, because slightly skinnier than me, decided to loose weight with Bioimis and in a short period of time he was no longer Lorenzo, he looked better and lost about 30 kg.
Thus I decided I wanted to try this journey, Lorenzo encouraged me that I could have reached my goal, and after meeting Licia, who explained me the Program, I decided to start and lose weight with my wife Udienza. I lost 51 kg and I still cannot believe it. When my wife hugs me, if she closes her eyes she does not recognize me.
My wife also lost 25 kg. I found again the wife I once had and she found again the husband she married. In the morning we would race to the scale...we were a great help one another. We are now jealous one another, and we renewed our marriage.
Due to my excess weight I had to sell my lovely motorcycle, and I hardly left the house. I would get out for work only. I am a truck driver, and the truck seat was becoming small for my size.
After loosing the excess weight my wife surprised me with a new motorcycle, by putting aside day by day our savings...now symbol of our happinness and commitment. For work I leave the house at 4 am. My wife would cook the night before or in the night for me. So to help be stick with the program.
Embarking two Bioimis journeys in the family we did many sacrifices. We decided not to take leave, but I would do it all again because the results are related to our happiness of today.
I can finally tie my shoes on my own, when my wife used to do it for me. I bought the motorcycle leather tracksuit for my wife and I and in Spring time I will go to the very famous Modena track: my dream since I can remember.
My friends tell me "no more diet" but I will not gain that much weight ever again. From a slim side now I can say that it is a complete different life. I have energy i never thought I had before. I could not even climb stairs.
I do not take anymore the diabetes pill and I am extremely happy. Bioimis is amazing, if it hadn't happened to me I would have found it hard to believe. I still pinch myself to make sure I am not dreaming.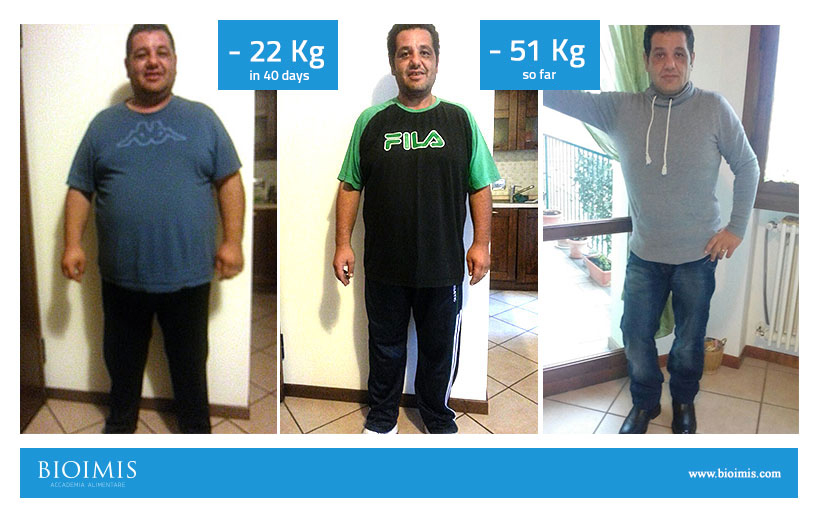 Saverio Doria
*The success stories presented refer to specific individual results and are not a guarantee on the actual outcome nor do they represent the norm. Length of time and amount of weight loss may vary from person to person based on one's initial weight, individual metabolism, lifestyle, and proper nutrition. The average weight loss of our customers following the Bioimis method can vary from 4 to 10 kg a month.