Rosanna Franceschini
- 43 Kg
in 12 months *
No more headaches!!!
Rosanna updates us on her journey after four months from the beginning of Program.

Hello ... I am Rosanna and I learnt about Bioimis randomly. I was not looking for a diet ... now I was disillusioned about the results of the diets .
Usually I lose very little...in such a long time... and during the rest period I would gain the weight all back ... sigh.. nevertheless, after in and out of diets my weight exceeded 110 kg ... I saw the results of Bioimis diet on a lady on Facebook ... and I got to be honest, that intrigued me. I asked about it both via internet ... and to the Bioimis consultant. I convinced myself to give it a try
Initially I was on a DIY sort of style.... meaning, I tried to test on myself the Bioimis system by removing salt ... then I started the actual nutritional journey ... in short, after about four months I lost 25.3 kg ! What can I say ... I have to lose another ten ... an achievement for me ... but I'm determined!
Additionally I managed to wear some clothes that I used to wear before pregnancies ... .... 13 years ago.... it was an incredibly satisfying !!! But guess what else? I've always suffered from headaches ... And now they are gone!!! Thanks Bioimis!

Rosanna updates us at the end of the Program

43 kg... Not only my size decreased from a 56-58 to a 46-48 ... but also I feel like a new person who has stopped having headaches every day ... and stopped taking two pills a day to fight it! Thanks Bioimis.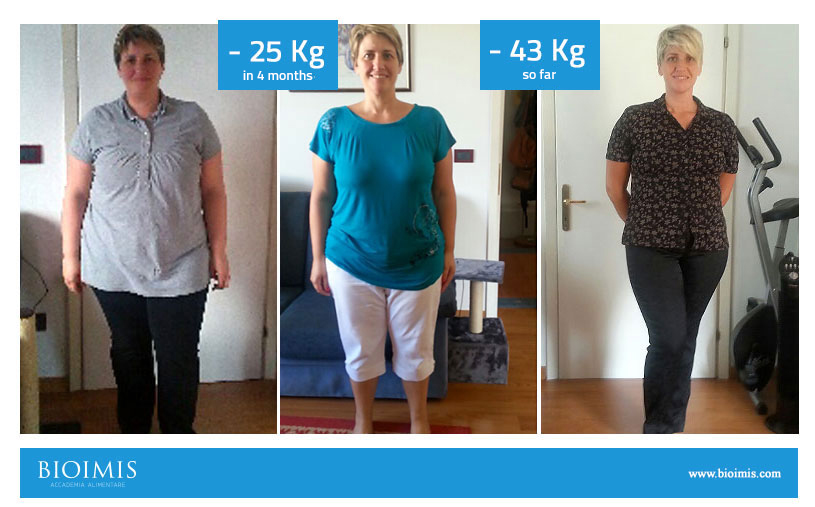 Rosanna Franceschini
*The success stories presented refer to the persons represented. Length of time and amount of weight loss may vary from person to person based on one's initial weight, individual metabolism, lifestyle, and proper nutrition. The average weight loss of our customers following the Bioimis method can vary from 4 to 10 kg a month.