High blood pressure is one of the most common diseases in industrialized countries. It affects in fact about 20% of the adult population and it is one of the major clinical problems of modern times. It is characterized by the presence of values of arterial blood pressure above the norm, considered 140 mmHg for the systolic blood pressure (or higher number) and 90 mmHg for the diastolic pressure (or lower number).
The increase in blood pressure values is not always accompanied by the appearance of symptoms since the body adjusts slowly to higher values and does not send alarm signals, especially if it occurs gradually.
In Italy more than 10 million people suffer from high blood pressure, and about half of them is unaware of having it. Many times in fact, people who are hypertensive find out about it during a medical check-up, not knowing about the presence of the disease for several years.
However, hypertension is one of the risk factors of the onset of atherosclerotic cardiovascular diseases (e.g. stroke, myocardial infarction, heart failure) and kidney failure.
High blood pressure can occur in two different forms: primary/essential hypertension and secondary hypertension
In a variable percentage between 90 and 95% of hypertension cases among adults no cause can be identified. This type of high blood pressure tends to develop gradually over several years and it is defined precisely primary or essential. Among possible factors underlying the disease the most important are genetic, eating habits, being overweight, physical inactivity and possible hormonal imbalances.
All other cases of hypertension are caused by an underlying disorder. This type of high blood pressure, so called secondary hypertension, tends to appear suddenly and causes an increase of blood pressure values higher than the primary hypertension. Several different diseases and medication can cause secondary hypertension; among them are: kidney problems, adrenal tumors, congenital heart defects, certain drugs.
Essential hypertension is often known as part of a more complex picture of diseases and risk factors called metabolic syndrome, of which it constitutes a diagnostic criterion.

Metabolic syndrome affects 20-30% of the population of Western countries and more frequently elderly subjects. Its incidence is on the increase in the population in recent years, setting up a real "epidemic", which triples or quadruples the risk of cardiovascular mortality for those who are affected.
Among the various components of metabolic syndrome, hypertension is referred to as the most frequent. Unfortunately, the presence of other cardiovascular risk factors makes it difficult in clinical practice to achieve optimal blood pressure for these patients, even if the treatment of the metabolic syndrome directed to the correction of individual risk factors (diabetes, cholesterol, obesity, etc ...) has the general objective of reducing the individual's overall cardiovascular risk. Faced with a case of high blood pressure your doctor is often forced to suggest, in addition to lifestyle changes, the use of a drug (or drugs) that is able to combine blood pressure value control with a favourable effect on other risk factors of the metabolic syndrome.
Considering what is reported in literature with respect to improvements in blood pressure in individuals subject to a proper diet, we conducted an analysis of the data provided by our customers during the Bioimis Nutritional Program in order to highlight an agreement with these observations.
The observation was conducted on all those clients who in 2015 started the Bioimis Nutritional Program while taking medication for hypertension. These are customers who most likely had incorrect eating habits and were overweight or obese.
We therefore considered 528 hypertensive patients of which 162 males (30.7%) and 366 females (69.3%).
The sample was divided into different age groups and BMIs: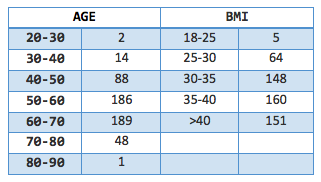 The subjects followed the program by eating the foods recommended until sense of satiety was reached according to the biochemical properties and the data provided daily by each individual. An additional feature of the diet is that it is alcohol-free, there is no added salt or sugar and it avoids processed or complex foods.
As mentioned above, our analysis was based on what the customer communicated during the course of the Program. The hypertensive customer, indeed, is asked to measure, and communicate the blood pressure values​, taken in the morning, every two days and if changes have been made on the anti-hypertensive therapy. As it is well known the Bioimis Nutritional Program does not perform medical activity and therefore does not handle medical therapies or is intended to cure any diseases, so it was decided not to collect accurate information about drugs used by customers or their dosage. Consequently, it is difficult to interpret the analysis of the time course of the blood pressure values ​​communicated; however, we do take into account the frequency within which the modification of therapy is communicated and its outcome, meaning if there was an increase or a reduction of the dosage.
In this regard, it appears that from the initial sample, 114 clients said they had reduced their blood pressure medication in compliance with their physician (21.7%), (of which 33.3% males and 66.7% females); of these, 43.5% of clients said they reduced the dosage within 30 days from the beginning of the program, 36.5% between the second and third months and 19% after the 90-day program.
In addition 115 clients (21.8%) said that they have completely eliminated their pill, (of which 27.8% males and 72.2% females); of these 19% of the customers has eliminated it within 30 days from the beginning the program, 53% between the second and third months and 28% after the 90-day program.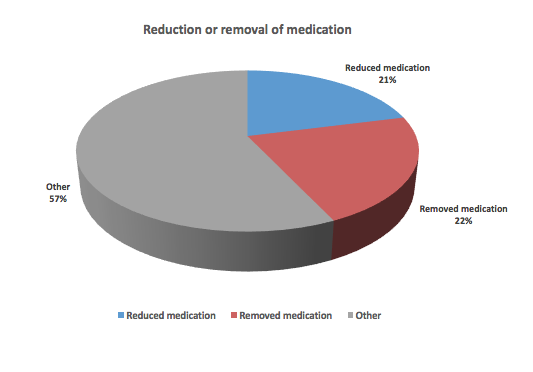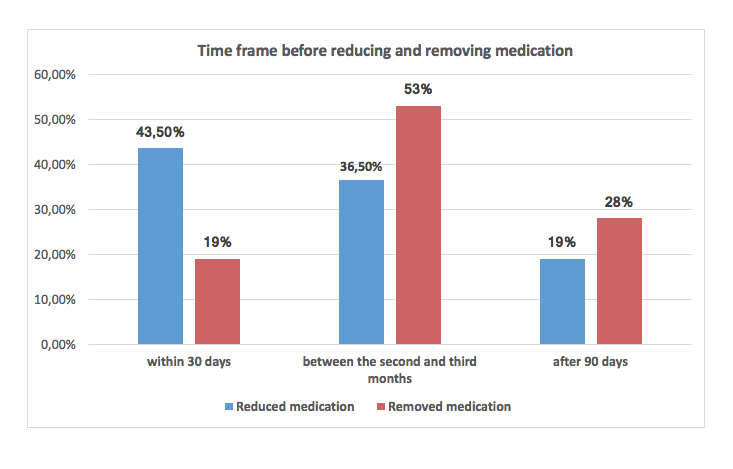 The two samples are divided into age groups and BMIs: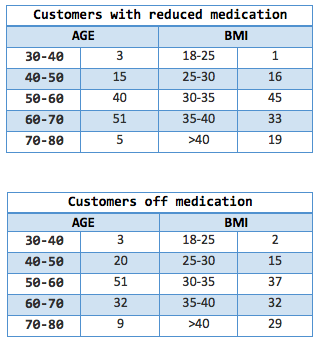 In conclusion, from these collected data, we can state that with our Nutritional Program 43.7% hypertensive clients have reduced or eliminated medication for high blood pressure. Obviously we needed further evaluation to confirm the data, but the results can already be considered an important indicator of the improvement of our customers' health.